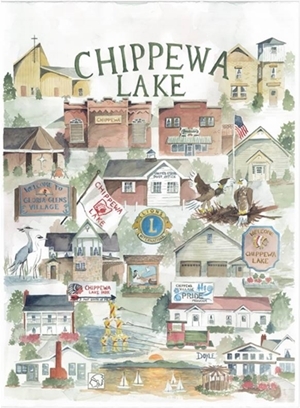 VILLAGE COUNCIL MONTHLY MEETING AUGUST 8th, 7:00 PM
The meeting will be held at the Village Hall. The meeting will also be broadcast on this YouTube channel:
"Chippewa Village" on YouTube
EMERGENCY WARNING OPTIONS
We wanted to take a moment to remind residents that Medina County Emergency Management Agency (MCEMA) has a great service available in the form of a reverse notification system. This program allows you to register for a variety of alerts including those for inclement weather. SIGN UP ONLINE: Medina County Emergency Alert Registration
TENNIS / PICKLEBALL COURTS
The Village is upgrading the tennis courts this summer. A new and innovative modular tile product with a 16 year guarantee will be installed. A local family donated their tennis court fencing. That fencing has been installed. **UPDATE** The tiles have arrived and are temporarily sitting on the edge of Bungalow Bay near the courts. Please drive carefully. The new surface will be installed sometime the week of 8/15. The costs for this project have been generously paid for by an endowment from  Sid and Doris Auble.
Medina County Health Dept. COVID Vaccine Resources
Link: MCHD Vaccine Resource Page
OhioMeansJobs of Medina County
Link: OhioMeansJobs of Medina County
OhioMeansJobs Medina County is the local, all-in-one workforce resource center and provides a full range of free services to job seekers and businesses.
Columbia Gas Income-Eligible Assistance Programs.
Link: Columbia Gas website
Link: Community Action Wayne/Medina (HEAP/PIPP information)
First Energy Payment Assistance Programs
Link: First Energy Payment Assistance Programs
The Emergency Broadband Assistance Program allows eligible residents to apply for up to $50/month on your Internet service.
Link: Apply for Broadband Assistance
August 8, 2022, 7:00 pm: Council Meeting
August 10, 2022, 5:00 pm: Ski Team Dinner and Show
August 11, 2022, 4:30 pm: MCDL Bookmobile at Hunters Run (Fayette Blvd)
August 12, 2022, 6:30 pm: Bocce Ball at Point Park
August 13, 2022, 6:00 pm: Porch Rocker
August 14, 2022, 5:00 pm: Village Pride Party
Mayor
Joanne Dodaro
Fiscal Officer
Gary Harris
Council
Keith Riedel
Barb Hunter
Alan Robbins
Ken Demeter
Bud Hardesty
Tamitha Sorgi
Law Director
Allan Michelson